Helping Your Child to Bounce Back - Resilience Workshop for Parents/Carers
Helping Your Child to Bounce Back - Resilience Workshop for Parents/Carers
8 May 2017 (by j.rosano)
Tuesday 23rd, May 2017 from 7pm - 9pm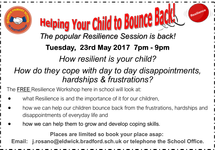 Helping Your Child to Bounce Back - the popular Resilience Workshop is back!
Tuesday, 23rd May 2017 7pm - 9pm
How Resilient is Your Child?
Life can be pretty hard going from time to time and there is a need for our children to be much more resilient. As parents and carers we need to help them learn to cope and give them strategies they can use as they grow up.
The free Resilience Workshop here in school will look at:
- what Resilience is and the importance of it for our children,
- how we can help our children bounce back from the frustrations, hardships and disappointments of everyday life and
- how we can help them to grow and develop coping skills.
Places are still available but limited so book your place asap: email j.rosano@eldwick.bradford.sch.uk