ESA Summer Fair
ESA Summer Fair
13 June 2018 (by j.rosano)
This Saturday 16th June 10am to 1pm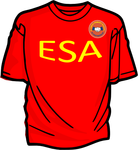 Saturday 16th June 10am to 1pm
A fun-packed Fair with new attractions including a Dog Agility Act, Prosecco Bar and Slime Station!
Donations desperately needed for the Coloured Stalls, Tombola and cupcakes/tray-bakes for the Governors' Cafe. Please send any donations in by the end of school on Thursday.
Help is also needed to make the fair a success -
can you spare an hour to man a stall (particularly the 12noon to 1pm slot),
can you help set up on Friday afternoon
can you be around to help clear away at the end of the Fair.
Please contact eldwickesa@gmail.com. We look forward to seeing you there!
Thank you
Erica Baker
(Yr 4 & Yr 1 Mum)