ESA Christmas Fair - Saturday 1st December 10.30AM - 2PM
ESA Christmas Fair - Saturday 1st December 10.30AM - 2PM
21 November 2018 (by j.rosano)
Santa's Grotto, Tombola, Governors' Cafe and so much more!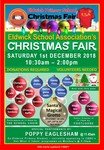 We look forward to seeing you there!
If you can spare some time to help please contact Jackie Rosano, Parental Involvement Worker. We would hate to have to cancel some of the stalls due to lack of help & volunteers.
Please can we have donations for the following stalls to be brought to the Entrance Hall / Office from now until Friday, 1st December:
Kids and Adult Tombola: – new / excellent condition prizes and gifts please
"New to you": – Second hand games, books, toys and Lego – these MUST be CLEAN & in an EXCELLENT condition please.
Chocolate Tombola: – All types of Dark/Milk/White Chocolate/nut-free: bars, boxes or other chocolate items welcomed, small or large. Why not pop a bar in your shopping trolley this weekend!
Photo Booth: – festive props such as hats, glasses, feather boas, moustaches, items to hold etc
Café: – Cakes/Traybakes to be handed into school on Friday 30th November or the morning itself.
Artificial Christmas Trees – if you are replacing yours this year could we have your old one?
Spectacular Raffle
Fabulous prizes including a BIG LEGO Prize donated by the ESA!
Could you, your work or business donate a prize? An acknowledgement of who made the donation will be included on the prize itself. The raffle is always well supported and any donations will be gratefully received.
Please contact Jackie Rosano, Parental Involvement Worker if you can donate a prize.
Christmas Fair Schedule
Time

Event

10.30am

· Christmas Fair Opens

10.30am – 1.45pm

· Santa's Grotto (see overleaf for ticket information)

· Stalls

· Tombola

· Christmas Puzzle Trail

· Spectacular Christmas Raffle

· Governors' Café (hot food from 11am)

11.00am

· School Choir perform

11.45am

· Poppy Eaglesham performs (currently appearing in CBBC's Got What it Takes tv programme on CBBC)

12.10am

· Footloose Dance School display

1.45pm

· Raffle Prize Draw

· Guess the Number of Sweets. Number of Lego Pieces and Weight of the Cake prize winners announced

· Christmas Puzzle Trail winner announced