Mrs Kershaw's Retirement Gifts
Mrs Kershaw's Retirement Gifts
19 December 2018 (by j.rosano)
Thank you.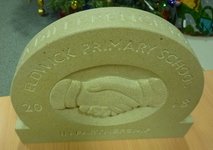 Thank you to all the families that contributed towards Mrs Kershaw's retirement gifts. Collections from staff, parents, past colleagues, work colleagues from across the authority and friends were collated and we purchased the following -
- An ipod, with £50 iTunes voucher
- A cast iron school bell to hang outside her house door
- A stone carving of the 'Eldwick in Partnership' logo, inscribed with 'making a difference for 24 years'. (see the picture attached.)
- A photo book of messages and memories.
- A voucher for Betty's Tea Room
- Flowers
The names of everyone who contributed have been placed in a retirement card and presented to Mrs Kershaw.
Mrs Kershaw was thrilled with the gifts and we are sure she will be in touch to express her thanks. We wish her a happy retirement.
Merry Christmas to all our families and the school community. Have a lovely break and we will see you all on Thursday 3rd January 2019