Click here to view our Privacy Notice
Harvest Festival, Weds 22nd October. Please bring tinned/packet donations to the school hall from 8.30am on that morning. See letter home for full details.
Welcome to our Website!
We are pleased you have chosen to visit our site and hope the information we have provided is both concise and informative.
Please feel free to browse our site at your leisure. Should you have any questions or queries, we would be more than happy to answer them for you by either telephone or email.
Visits to school are positively welcomed and may be arranged by mutual appointment
CONTACT US
Eldwick Primary School
Barnaby Road
Gilstead
Bingley
BD16 3LE
Tel: 01274 568361
Fax: 01274511163
Email: office@eldwick.bradford.sch.uk
-------------
Job vacancies in School
General Kitchen Assistant - 16hrs
Please ring 01274 433565
or email:
fm.recruitment@bradford.gov.uk
quoting reference: GKA2089
Closing Date is 24th October 2014
Parent View gives you the chance to say what you think about Eldwick Primary School. We really value your opinion and would be pleased if you could spend a few minutes completing the short questionnaire which can be found by clicking on the parent view logo above.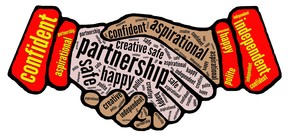 School Dinner Menu
w/c 20th October
The School Dinner menu will now revert back to the normal Bradford Council menu.
Click here to access that menu.
Free School Meals - are you eligible?
Click here for all the details to see if you are.
Universal Free School Meals
From September 2014 children in Reception, Year 1 and Year 2 will all get a Free School Meal ( we call this Universal Free School Meals).
Please note,if you would be eligible to claim free school meals generally you should still complete an application form as this could entitle you to additional benefits. Contact Mrs Rosano for more information
ESA Upcoming Events
ESA Children's Autumn Disco
Thurs, 23rd October
Tickets available from the Office.
ESA Cakes for the Weekend
Fri, 24th Oct - Yr 2 donations welcomed.
On sale in the playground after school. Click here to see when it's your year group. Once again a prize will be given to the year group raising the most money!
Uniform Policy Updated Jan 14
The uniform policy has been updated with details of the availability and costs of the sweatshirts, cardigans and polo shirts. Click here to view the policy.
---------------------------------------------------
School Dinner Money
(Yr 3 and above only)
£60.45 to the October break
£7.75 per week
£1.55