Click here to view our Privacy Notice
Help needed to set up Christmas Fair on Friday 6th December 1.15pm onwards. Please contact the ESA - eldwickESA@gmail.com Please help if you can!
A big THANK YOU for your enthusiasm and generosity in supporting the children to mark the annual Children in Need Day. They all looked fabulous in their heroes and heroines outfits. We raised £678.18 altogether - well done! Congratulations also to our 'Heroes and Heroines quiz winners: Charlotte Kelley, Matthew Allwood, Sophie Bhatt and Aaliyah Samrah. Enjoy the Heroes!!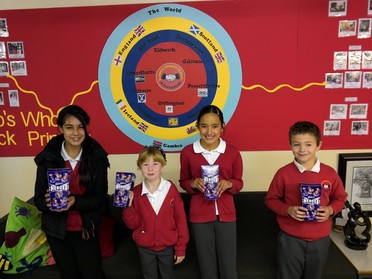 The Yorkshire Air Ambulance is an independent charity providing a life saving rapid response emergency service to 5 million people across Yorkshire.

To keep providing this life saving service the School Council have organised a recycling bank at the side entrance to school. Please bag up any old clothes, textiles and shoes and help this life saving charity.
Super Heroes at Eldwick Primary School Nursery

More Opportunities for School Places at Eldwick Primary 2014/15

Nursery Places 2014
Our Nursery is full for this year, starting in September 2013. However, we are keen to advertise our provision for the following year ie. September 2014.
People always think we are full, and luckily for us we often are. There is a tendency, however that if the number of births is very high in one year i.e. 2009/10 the next year birth rates tend to be lower. Consequently it may be that for those children born in 2010/11, who will come to Nursery in September 2014, we may be able spread our net a bit wider.
If there are less than 52 children on our Nursery list by the end of January 2014, they would all be offered places irrespective of where they live. It would be a shame, in a lighter year, if people who wanted to come did not even put their name down just because they think they won't get a place. Certainly if you have a younger child and have siblings in school it is very important to put their name on the list for Nursery as soon as possible (please do not presume that we know that you have a younger child) or you might miss your opportunity for a nursery place.
If the list for Nursery has more than 52 names on it then we have to apply our admissions oversubscriptions procedure as outlined below.
Siblings (the older child must be in main school at the point of admission) in priority area one

Siblings (the older child must be in main school at the point of admission) in priority area two

All other siblings (see above) who live outside the priority area

Children living in priority area one

Children living in priority area two

All other children prioritised by which one lives closest to the school's main entrance
I have no way of knowing how many children are out there wanting places but I presume there are some, living at the edges of our catchment and beyond, who may think their chances of a place are limited. At this stage I would encourage them to put their name on the Nursery list as one of their choices if they would like to come to Nursery. Obviously there is no guarantee that they will get a place. If anyone wants to do this they can contact the school office using the details below.
Reception Places 2014 onwards
We anticipate a high demand for places for Reception in September 2014. This will to some extent be addressed by our expansion to an intake of 75 pupils into Reception from that date.
For September 2015, the numbers of births would suggest that demand would be lower, so obviously I am keen to encourage families to come and look round school and not to make the automatic assumption that we will be full for that year.
Dates for new families to look round school
We have organised three dates when we are keen to show round new families who might be thinking about us as a school for their child.
Monday 8th July Friday 20th September Thursday 10th October
We plan to show parents around at 9.30 am and 1.30 pm on these dates but there may be some flexibility.
Many of you say that you would recommend the school to friends and family so please let them know about these dates. They can book to have a visit by contacting the school office on 01274 568361 or by email to office@eldwick.bradford.sch.uk

Mrs J Kershaw
Headteacher

Contact us at Eldwick Primary School, Barnaby Road,Gilstead, Bingley, BD16 3LE. Telephone 01274 568361. Email: office@eldwick.bradford.sch.uk
Rich Text Area
Congratulations!
Eldwick Primary School has been awarded the Inclusion Quality Mark
What is Inclusion?
Educational inclusion is about equal opportunities for all pupils, whatever their age, gender, ethnicity, attainment and background. It pays particular attention to the provision made for, and the achievement of, different groups of pupils within a school. An educationally inclusive school is one in which the teaching and learning, achievements, attitudes and well-being of every young person matters.
Please click on the IQM logo above to access the full report.
Keep up with the Eldwick News!

Year 3 Christmas Party
Change of Date
now Tues, 17th Dec at 1.30pm
Crafty Cuppa is back!
Can you spare some time on a Friday afternoon to help with some small jobs in school? No craftexperience or skills required, just your time! From 1.30pm every Friday, just come to the School Office if you can help.
Learning in Partnership Policy

We welcome any comments in response to this draft Learning in Partnership Policy. Please email your thoughts to:
office@eldwick.bradford.sch.uk
You can download the document by clicking on the image above.