Click here to view our Privacy Notice
Have a wonderful Summer. School re-opens on 2nd September 2014.
Job vacancies in School
Cleaner
Parent View gives you the chance to say what you think about Eldwick Primary School. We really value your opinion and would be pleased if you could spend a few minutes completing the short questionnaire which can be found by clicking on the parent view logo above.
More Opportunities for School Places at Eldwick Primary
2014 / 15
Nursery Places 2014
* Updated Feb 2014
We have allocated places in Nursery for 2014 but we still have some spaces available.
People always think we are full and that is often the case. There are odd years however, like 2014, when the birth rate across the district is lower. This year we have been able to accommodate all the people on the list and some of them are from further afield than usual.
I am presuming that all families in school who have younger children have already been allocated a place. Please do not presume we know you have another child or you might miss the opportunity for a Nursery place.
Please advertise the fact that we currently have places remaining in Nursery for September 2014 and encourage people to contact the School Office.
Reception Places 2014 and 2015
We anticipate a high demand for places for Reception in September 2014. This will to some extent be addressed by our expansion to an intake of 75 pupils into Reception from that date.
For September 2015, the numbers of births would suggest that demand would be lower, so obviously I am keen to encourage families to come and look round school and not to make the automatic assumption that we will be full for that year.
This is the admission procedure for the school:
Siblings (the older child must be in main school at the point of admission) in priority area one

Siblings (the older child must be in main school at the point of admission) in priority area two

All other siblings (see above) who live outside the priority area

Children living in priority area one

Children living in priority area two

All other children prioritised by which one lives closest to the school's main entrance
Mrs J Kershaw
Headteacher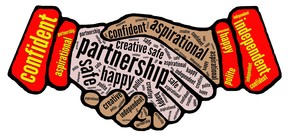 Welcome to our Website!
We are pleased you have chosen to visit our site and hope the information we have provided is both concise and informative.
Please feel free to browse our site at your leisure. Should you have any questions or queries, we would be more than happy to answer them for you by either telephone or email.
Visits to school are positively welcomed and may be arranged by mutual appointment
CONTACT US
Eldwick Primary School
Barnaby Road
Gilstead
Bingley
BD16 3LE
Tel: 01274 568361
Fax: 01274511163
Email: office@eldwick.bradford.sch.uk
-------------
Community Links
Click here for details of events and activities and groups in the area.
* Updated 9th July - Summer activities and events
--------------------
Uniform Policy Updated Jan 14
The uniform policy has been updated with details of the availability and costs of the sweatshirts, cardigans and polo shirts. Click here to view the policy.
---------------------------------------------------
School Closes
on 18th July 2014
for the summer break. (We are therefore closed on 21st, 22nd & 23rd July.)
This is due to the necessary building work required for our expansion to 2 1/2 form entry in September 2014
School will re--open on Tues, 2nd September
-----------
Free School Meals - are you eligible?
Click here for all the details to see if you are.
Universal Free School Meals
From September 2014 children in Reception, Year 1 and Year 2 will all get a Free School Meal ( we call this Universal Free School Meals).
Please note,if you would be eligible to claim free school meals generally you should still complete an application form as this could entitle you to additional benefits. Contact Mrs Rosano for more information